Introduction
Use of cloud services has taken off across countless industries. Adoption of cloud computing in healthcare has taken place a little more tentatively, as providers sort out how they can benefit from cloud offerings and how much of their operations they can afford to transfer to the cloud. EHRs, analytics and imaging systems are a few areas in which healthcare providers have found success with cloud deployments.
The flexibility of cloud hosting is one of its upsides, while initial conversion costs and the security of the system and the data it hosts are two major concerns that have some organizations dubious of the sustainability of cloud computing in healthcare. Care providers aren't alone in looking for ways to implement cloud hosting services. Some cloud providers are adjusting their products to fit healthcare needs. Also, an established EHR titan made news by announcing the construction of a cloud data center. These developments are only part of the ongoing maturation of cloud in healthcare.
1

Healthcare cloud architecture
EHRs and other cloud installations
The cloud EHR market is in transition, as indicated by two recent moves by competing vendors. One decided to enter the healthcare cloud business after years of resistance, and a cloud veteran is making its first jump into the hospital market. Imaging data is also being hosted in the cloud, though the initial costs of transferring stored data into a new system has prevented some providers from making a change.
2

Cloud in healthcare security
Security issues facing cloud in healthcare
Some healthcare facilities aren't yet willing to trust outsiders to host and secure their data. This section explores why they feel that way and how products such as disaster recovery as a service are benefiting cloud providers in earning more business.
DOWNLOAD THIS FREE GUIDE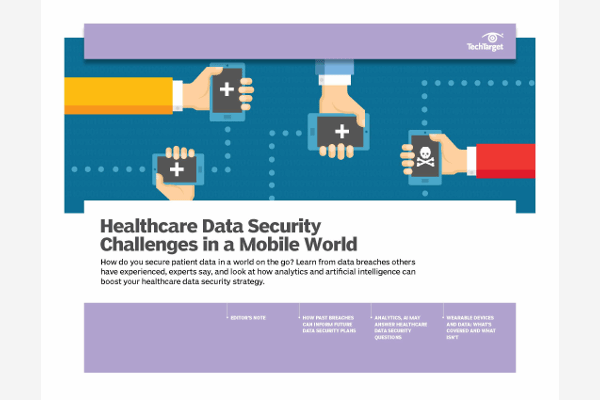 Free Guide: Wearables Raise Healthcare Data Security Questions
Is the information collected by Fitbits and Apple Watches covered by HIPAA regulations? Only sometimes. Find out more about what's covered – and what isn't – when it comes to wearable devices and data so you can avoid the risks.
3

Future of cloud in healthcare
How to prep before installing healthcare cloud services
Image sharing, analytics and virtual desktop infrastructures are a few services that could see their ties with cloud in healthcare strengthened in the coming years. Healthcare analysts have found working with cloud systems gives them access to more current data and allows them to return more meaningful insights to their organizations. As for image sharing, a director of diagnostic solutions marketing called the passage into cloud like moving from the Stone Age to modern day. Finally, find out how a chain of urgent care clinics used the cloud as a way to stop patients from seeking care at other facilities.